EMA Global is the leading Asia-Pacific medical assistance company specialising in aeromedical transfers.

To ensure your loved ones receive the best medical attention, we select only the best professionals who are trained to handle the intricacies and challenges of aeromedical transport. Our team comprises ICU specialists, pilots with thousands of flying hours, as well as patient and attentive customer service coordinators.
Your family, in safe hands.
Medical Expertise
Experience
Safety & Comfort
Reaction Time
There are hundreds of processes involved within a single transportation, all of which we are familiar with. Our team of experienced experts possess the know-how to provide timely and safe transfers. We also place a premium on good communication, keeping patients informed and reassured every step of the way, because we know nothing is as valuable as peace of mind.
Leave the details to us
Medical Expertise
Experience
Safety & Comfort
Reaction Time
We take great pains to make sure every patient's journey is as comfortable as possible. Our team has been trained to handle just about every situation that can arise, always remaining courteous and patient.
You have our complete attention
Medical Expertise
Experience
Safety & Comfort
Reaction Time
We don't take any timeline lightly. You can count on us to respond to all enquiries with lightning speed and pin-point accuracy.
When time isn't

on your side, we are
Medical Expertise
Experience
Safety & Comfort
Reaction Time
How Does It Work?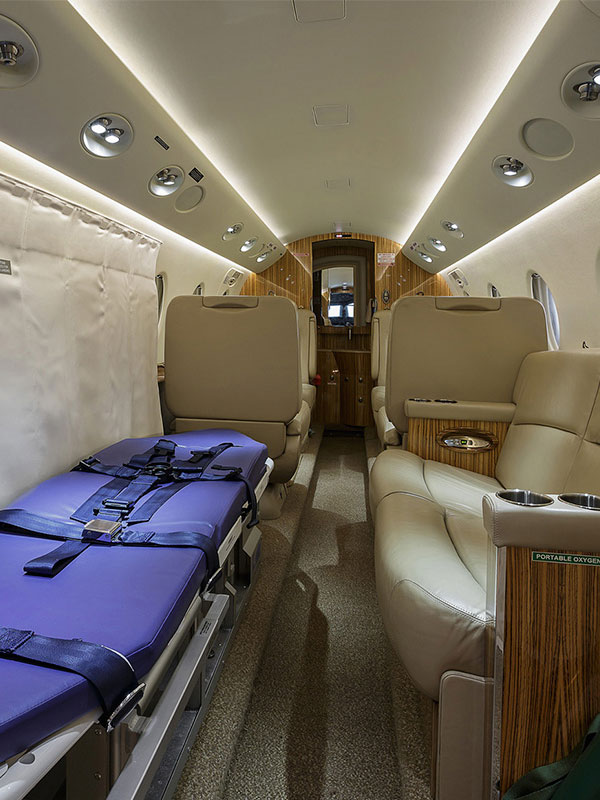 THE PICKUP
EMA Global recognises that a patient's condition is dynamic, which is why we ensure our medical escorts are briefed according to real-time information. Upon arrival at the patient's bedside, we get a final update from the treating doctors of any changes to the treatment plan. Any pre-emptive medical procedures are performed prior to leaving the hospital.
TRANSFER
Our dedicated and attentive medical team will escort you in an ambulance to the next airport, with safety and comfort as our top priorities. You and your family will also be given timely status update throughout the entire journey. We allocate staff with the most relevant local knowledge, to minimise pitfalls such as road closures or traffic jams. Should the need arise, our team will also be able to facilitate special arrangements like police escort services.
DEPARTURE
Once at the airport, our staff will facilitate your seamless transition from ground transport to one of our waiting jets. Attention to detail and flexibility in dynamic and complex situations are all essential in preventing any delay in your journey home or to your next medical destination.
AIR AMBULANCE
Throughout your flight, you'll be under the experienced, watchful eye of your medical escort(s), who will provide close monitoring, who will work around the clock to prevent any deterioration of your condition.
DESTINATION
Upon arrival to the airport closest to your destination hospital, you'll be escorted to your admission via ambulance.
ARRIVAL
Once at the hospital, you will be received safe and sound by the medical staff. But our job doesn't end there. As part of our professional due diligence, and personal commitment to all our patients, our staff will remain available for follow-ups with family and/or caregivers to ensure continuity of care.